The Dublin City Social Enterprise Summit Report for 16th October 2019 City Hall event has been released.
The following is taken from the forward of the report:
Social enterprises bring about a diverse and vital range of economic, community and policy benefits to regions, communities and individuals. The Social Enterprise Summit was hosted to highlight social enterprise development in Dublin and Ireland as well as to encourage further development and collaboration. This report provides an extensive account of the summit including contributions, insights and examples. It has been produced to share knowledge and inform policy makers, stakeholders and interested parties.

As Deputy Chairperson of the Economic Development and Enterprise Strategic Policy Committee (SPC) of Dublin City Council, it was an honour to host the summit. It was inspiring to hear the many insights and perspectives shared by social enterprise representatives and experts.
Thank you to the Economic Development Office for organising and thank you to all contributors and attendees for supporting the summit. The SPC and Dublin City Council look forward to further supporting and collaborating regarding social enterprise development into the future.
Taken from Page 41 in the report: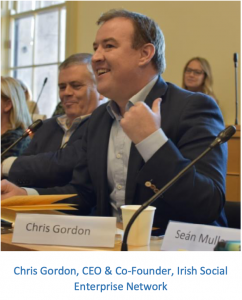 [Chris Gordon presented on his work with Irish Social Enterprise Network and Collaboration Ireland and the importance of networking and collaboration to drive social enterprise development]
Chris Gordon was 'wowed' by the number of people in the chamber and in awe of the extraordinary support given to social enterprise over the past while. He introduced himself as the CEO of the Irish Social Enterprise Network and former Director of Social Enterprise Northern Ireland (with Colin Jess as his boss) and expressed his deep appreciation for the brilliant work being done by the two organisations.
He spoke about using an outside perspective when shaping social enterprise development and how the network was set up a number of years ago on foot of a programme in Tallaght thanks to John Kearns and others. As part of the programme, social enterprises were asked to join the network and from small beginnings the Irish Social Enterprise Network has gone from strength to strength. Mr Gordon highlighted the networks' three main areas of focus as: advocacy, network and education.
'These areas are really important for us as we believe that the ones that need to speak up are social enterprises, they're leading this on the ground, they're the ones that need a voice and are the only voice that truly matters'.
He referenced an incredible group of support organisations, social enterprises and beneficiaries that have been able to help along the way but said that it was ultimately down to social enterprises themselves to take the available opportunities.
On this topic, he acknowledged that Dublin City Council had provided some of the opportunities and that the network was ecstatic to be involved with the team of the Economic Development Office and Local Enterprise Office over the past six years. He gave particular thanks to Evanne Kilmurray of Inner City Enterprise who, along with Dublin City Council and the Department of Rural and Community Development was responsible for developing the Dublin City Social Enterprise Awards that many of the social enterprises present have been involved with.
He also named DCU and Deiric O'Broin, the Carmichael Centre, and St Andrew's Resource Centre in this regard. He reminded attendees that it wasn't a case of someone just deciding to set up a social enterprise but rather a movement that happened long beforehand with a host of people involved, maintaining that, 'It's crucial to start early and keep strong'.
In relation to the social enterprise part, he said that he was fortunate to be involved in lots of programmes such as the Social Enterprise Training Course (managed by Dublin City Council) and theSocial Enterprise Toolkit (written by the network and co-funded by Dublin South City Partnership, Community Finance Ireland and Dublin City Council), advising those helping out or setting up a social enterprise to use this resource. These along with the Social Enterprise Management Plato Programme and other projects gave credence to the fact that there has been Trojan work done to date.
Mr Gordon urged participants to make sure that when talking about social enterprises, that there is engagement with social enterprises and asked those who had interacted with the network through the ask and advise nights, networking events, mailing list, website, phone number, clinic meetings, Plato group or membership to raise their hands. He explained that the widespread show of raised hands demonstrated that interaction was occurring and necessary, stating 'there is nothing worse than people working in silos'.
'Social enterprise is stronger when we work together, collaborate and that's what we've been trying to do. When you contact the network, we try to point you in the direction of the service you need to get your idea off the ground or get your organisation to the next level. Whether it's working with local authorities or partnerships, we have a track record of it and know it works'.
Highlighting how the network helps in various ways such as with individual social enterprises who otherwise would not have a voice, he explained that the network assisted Siobhán Cafferty from the Justice Committee who has helped develop a number of initiatives, one of which was to reduce the cost of insurance for social enterprises. While this may seem small, he believes it can be ruinous for organisations and shows that it does make a difference.
The two main areas he raised in working with social enterprises were the governance hurdle (as mentioned by Larry O'Neill) and procurement, which is a main focus of the network. 'While it may be a boring word, it's the most transformative' he said. The Irish network through its European partners such as: European Network of Social Integration Enterprises and the European Commission recently ran the Buying for Social Impact Conference. The Network has run a BuySocial campaign over the past few years which has culminated in the recent creation of the www.buysocial.ie website for social enterprises. The site is still being developed and populated, so he encouraged social enterprises to contact the site in order to be featured on it. 'We want people to not only think about social enterprises as positive but also to purchase from them'.
Mr Gordon finished with, 'The time is now, it's been an incredible journey for us over the past eight years and we deeply appreciate all of the members of the Irish Social Enterprise Network. If you've got network events, please do tell us about them. Lastly, remember to give the voice to social enterprise!'
The report can be downloaded from our site here: Social Enterprise Summit Outcomes Report
The report can also be downloaded from Local Enterprise Office: https://www.localenterprise.ie/DublinCity/Documents/Social%20Enterprise%20Summit%20Outcomes%20Report.pdf