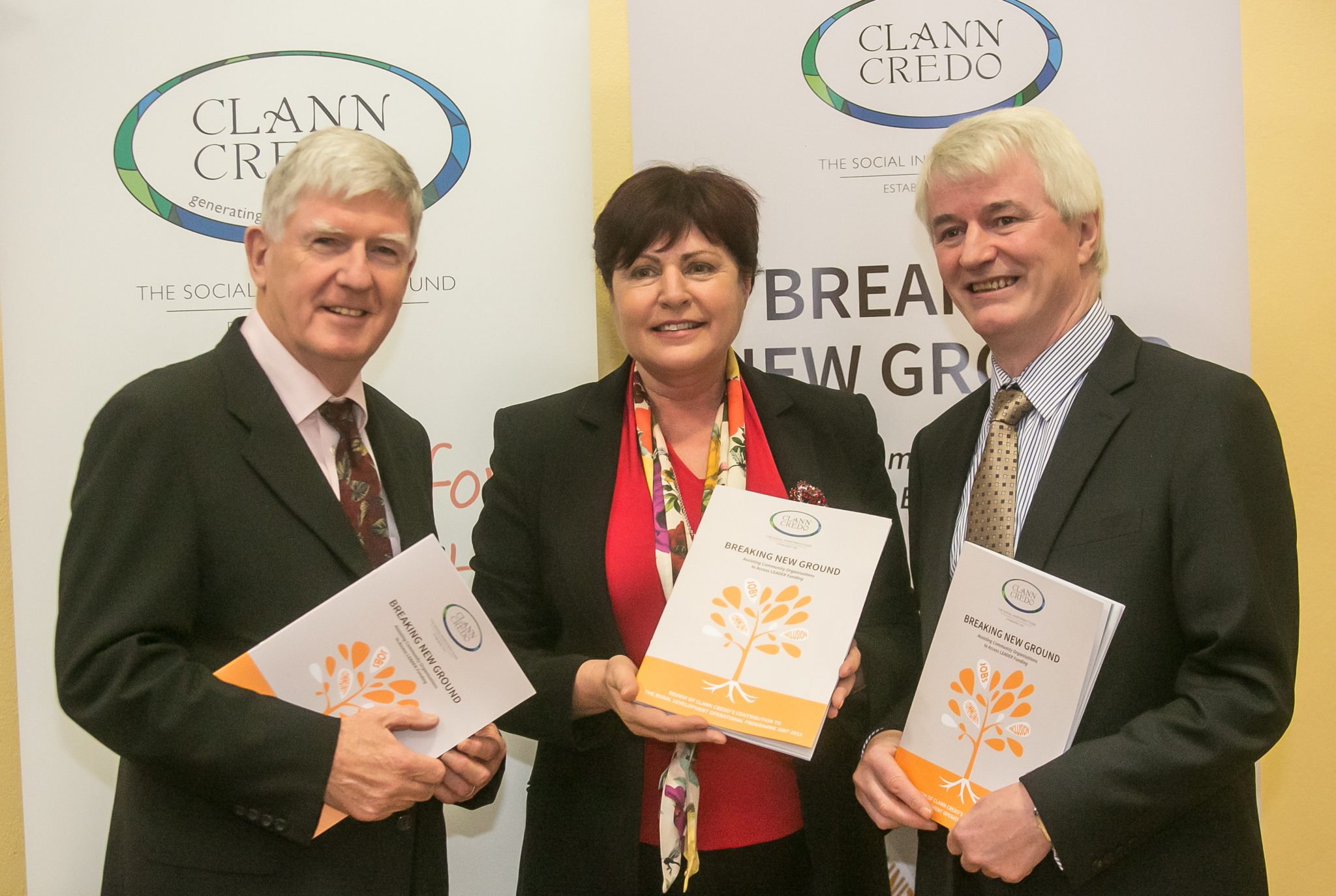 New report shows Clann Credo supported creation of 1,000 LEADER jobs
Over 1,000 jobs were created countrywide through projects funded by Clann Credo – the Social Investment Fund during the period of the outgoing LEADER programme, a new independent report, published last week (Monday November 9th ) states.
The Report, 'BREAKING NEW GROUND: Assisting Community Organisations to Access LEADER Funding' was launched by Ann Phelan, Minister of State at the Departments of Agriculture, Food and Marine and Transport, Tourism and Sport with Special Responsibility for Rural Economic Development and Social Enterprise.
It makes a number of recommendations to improve service to community groups under the upcoming LEADER Programme, including developing clear guidelines to ensure a more streamlined application process, holding joint information events and establishing a Joint Annual Review.
The Report carried out by Ann Clarke, Independent Evaluator, found that Clann Credo's social finance was critical and that 319 community-based organisations were helped access LEADER funding.  A total of €34m loans were disbursed during the period and the average Clann Credo load was €106,000.
80% of projects indicated that the Clann Credo loan was critical to securing the LEADER grant.  Twelve LEADER companies estimated that a minimum of 52 projects with eligible expenditure of €13.4m (24% of their community budgets) could not have proceeded without the Clann Credo loan.
In addition to enabling the creation of 1,000 new jobs, the report finds that Clann Credo support helped
Maintain a further 600 jobs
Provided a further 1,400 temporary jobs, directly and indirectly
Improved community facilities and infrastructure resulting in increased usage, additional tourist visitors, additional income, civic pride, new social and activity groups.
These loans enabled a total of €42m of LEADER grants to be drawn-down.
The Report, carried out during 2015, reviewed challenges for development of community projects with the aim of making recommendations for improving the experience for clients for LEADER 2014 – 2020.
The main challenge lay in sourcing funds for community projects.  Conventional financial outlets often proved inflexible, with some demanding personal guarantees as security.
A majority of those surveyed – 59% – failed to secure funding from conventional financial outlets.  Many turned to Credo for assistance and almost 90% of that number reported a significantly better experience.
The vast majority of projects surveyed over 80% said that the Clann Credo loan was critical to securing the LEADER grant.
LEADER companies identified 52 separate projects, valued at €13m that would not have proceeded without support from Clann Credo.
The projects generated a significant increase in volunteering activity, with some 2,800 new volunteers or 40 per project.
The review clearly illustrated the multi-layered and multifaceted impact of social enterprise on all areas of community life.
The Report also identified where Clann Credo and LEADER companies can increase awareness of their role and services among the relevant groups and sectors.
Welcoming the report, Paul O'Sullivan, CEO of Clann Credo said that by any measure, this represents a major, if under-the-radar impact on a multitude of small local economies countrywide.
"It demonstrates the critical role of social enterprise at a community and grassroots level. It is worth noting the projects were geographically spread across every county and addressed community needs in job provision, community services as well as other areas like heritage and tourism."
"It demonstrates the ability of community-based organisations to rebuild their own communities collectively from the ground-up.  Clann Credo will be examining the findings of this report in detail and working with LEADER to ensure more effective and improved services to community groups under the new LEADER programme," he said.
For more information on this report and Clann Credo – the Social Investment Fund please contact;
To read the full report follow this link:  http://tinyurl.com/nv4evc6