From our friends in BNest.ie
Applications are now open for the third edition of BNest Incubator Programme, that will start in September in Nexus Innovation Centre, UL.
We are looking for new cohort of people passionate about making social impact to help them take their idea or their existing venture to the next level.
It is a great opportunity not only to learn more about running a Business for Social Impact, to receive individual and tailored support and mentoring, but most importantly to access the network of like-minded people, advisers and potential founders.
Applications are open until August 15, 2018.
Informal interviews will take place in July & August – the sooner you apply, the sooner we can meet.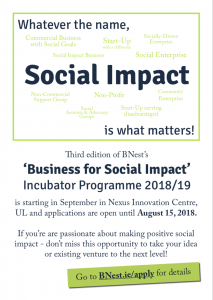 Application form is very simple & straightforward – it's there to start the conversation and help us understand a little what are you trying to do. Please reach out to us, if you have any questions or doubts.
If you would like to apply, click http://www.bnest.ie/apply