Local Networking:
Supporting Communities of Social Enterprise
Local Social Enterprise Networks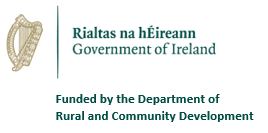 The Irish Social Enterprise Network has members all across Ireland. We understand the value of meeting and connecting locally and we understand the value of community networks engaging with each other. To that end, we are teaming up with partners across Ireland to run regional and local events with social enterprises in communities.
What can we offer?
If you would like to partner with the Irish Social Enterprise Network, we can offer a number of services.
We can help host the networking sessions, initially on Zoom
We can deliver new formats and content
We can update local community groups on National and International issues affecting social enterprise
We can connect social entrepreneurs and social enterprise managers across Ireland
We can promote solidarity and raise awareness and profiles of social enterprise
Thanks to the support of the Department of Rural and Community Development we are in an position to offer our services for free for the first few weeks, so please consider contacting us soon.
Would you like to partner with us?
If you would like to partner with us, all you have to do is contact us on info@socent.ie or through the National Social Enterprise Helpline.