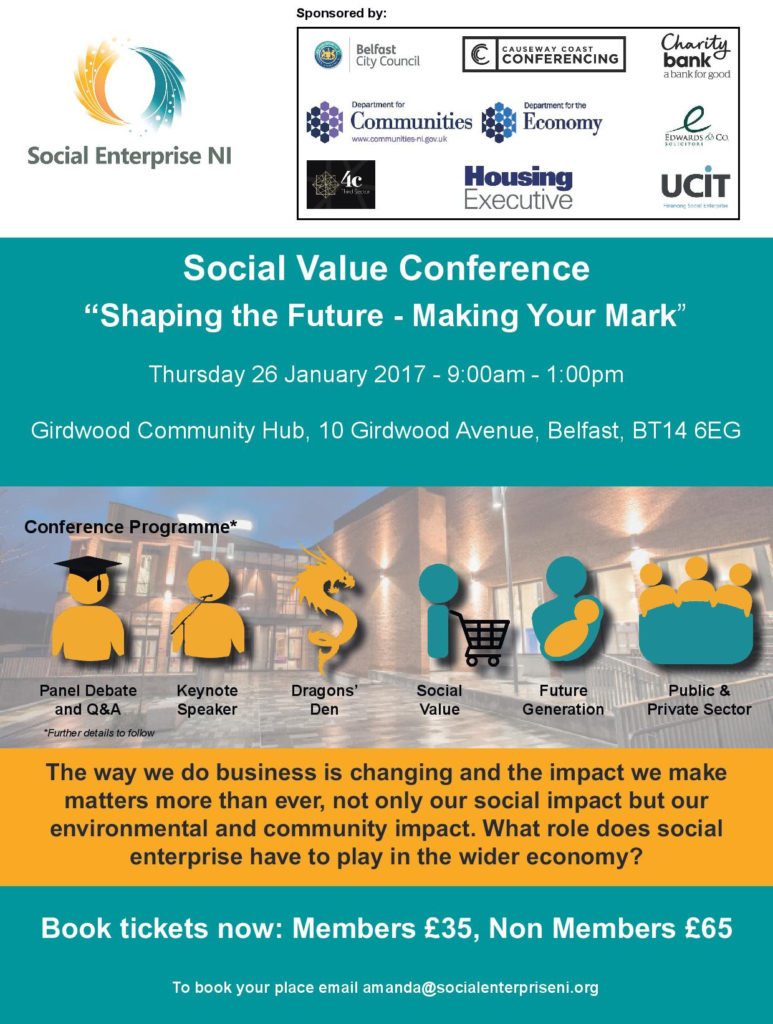 Social Enterprise NI Conference
Our partners in Northern Ireland are running a conference on the 26th January on one of the most pressing issues for social enterprise, private enterprise and government. Check it out.
"The way we do business is changing and the impact we make matters more than ever, not only our social impact but also that on our environmental and community.  What role does social enterprise have to play in the new Northern Ireland economy?  How can social enterprises and their business model influence other organisations outside the sector?  I am truly inspired by the work that our members do and the contribution that they make to society on a day to day basis and we will take the opportunity to promote these via the marketplace where members can network with conference guests.
Taking this forward we will hear from representatives of not only NI organisations but those private and public sector representations across the UK. This shorter event will not diminish the value of the conference, but will take the awareness and impact of the sector to another level.
Our awards, held on 20 October 2016, were a celebration of how our members are making a distinct difference in the daily life of their communities.  The event was an unprecedented success, celebrating the impact of the sector and hearing some truly inspirational stories.  It is clear to me that there is a momentum building behind the social enterprise sector and we can see an increasing level of interest from not only social enterprises but also public sector, private sector and the political parties.  All are beginning to understand the clear impact and role that social enterprises can make in the future economy of Northern Ireland.   We will also consider the future of the sector and will introduce you to the next generation of prize winning social entrepreneurs.
The conference will be of interest to;
Social Enterprises and other Third Sector bodies;
Public Sector bodies, councils, Non Departmental Public Bodies, Councillors;
Private Sector organisations; and
Political parties, policy makers and MLA's.
I would like to thank all those who have provided support for the event and in particular our key sponsors. There are still some sponsorship opportunities available, if interested please contact Amanda amanda@socialenterpriseni.org
The event promises to challenge us all, no matter from which sector we belong, to work together and see how we can do so to the huge benefit of society and the Northern Ireland economy."