From SEWF
The refugee crisis: A call to action to the SEWF Community 
Date: Tuesday 28 September 2021
Time: 20:00-20:30 BST (GMT+1) / 21:00–21:30 CEST
Moderator: Carolien de Bruin, World Economic Forum (Switzerland)
Speaker: Hamed Ahmadi, Orient Experience / Africa Experience (Italy)
Values-based business – cooperatives and community ownership

Date:

Tuesday 28 September 2021
Time: 20:40-21:20 GMT+1 / 16:40-17:20 ADT
Moderator: John Kay, Realize Strategies / Cooperative Council (Canada)
Speakers: Teresa Scorza, Zeropercento (Italy), Lawrence Afere, Springboard (Nigeria), Emilie Viau-Drouin, CAPÉ – Coopérative pour l'agriculture de proximité écologique (Canada)
---
Addressing the social finance gap – alternative approaches
Date: Tuesday 28 September 2021
Time: 22:40-23:20 GMT +1 / 18:40-19:20 ADT
Moderator: David LePage, SEWF / Buy Social Canada (Canada)
Speakers: Sebastian Gatica, CoLab UC (Chile), Chris Googoo, Ulnooweg (Canada), Carly Mohamed, First Australians Capital (Australia)
---
Fireside with leading LGBTQI social enterprise Micro Rainbow
Date: Wednesday 29 September 2021
Time: 20:50 – 21:30 GMT+1 / 16:50-17:30 ADT
Moderator: Liz Cross, Connectives (UK)
Speaker: Sebastian Rocca, MicroRainbow International (UK)
Getting ready for the SEWF Youth Forum? Calling all young changemakers, join the SEWF Youth Forum on 27 September 2021 to connect, learn and be inspired! The event is free for all under 30s and is also the culmination of the Shifters Global Innovation Challenge which closed on 16 July 2021. Want to see the programme of events and our list of incredible young speakers?
How these six entities are expanding the Malaysian social enterprise ecosystem
"In alignment with Malaysia's theme of 'continuity and evolution' of the social entrepreneurship agenda, we hope that the SEWF Community Hub will be the door to expand the Malaysian ecosystem thinking that enables Malaysia to scale social entrepreneurship practices further, and can create impact within the country's agenda". ⏤ The Malaysia Community Hub

The Community Hub in Malaysia consists of a coalition of private sector organisations, social enterprises as well as a state government agency and below is a spotlight on their activities.
Bringing home SEWF 2021 to Newfoundland and Labrador, Canada
"[While attending SEWF 2018,] we were able to make lasting relationships, be inspired and engage in stimulating discussions that influenced our vision for what is possible in our community. Social enterprise and social innovation work can start with a small act with big vision — we have taken that with us and it has created substantial change in our communities". ⏤ Choices for Youth

Choices for Youth (CFY) strives to provide at-risk youth and emerging adults with programming and services that meet their present and long-term needs. Currently, CFY is one of the 20+ organisations across the globe, set to host a Community Hub during SEWF 2021
"As a social entrepreneur, one of the biggest challenges I faced starting up was knowing where to focus my energy and efforts. We would often get pulled in multiple directions, trying to solve various problems whilst focusing on growing the organisation too". ⏤ Rashvin Pal Singh

Rashvin is the Group CEO of Biji-biji Initiative, one of Malaysia's pioneering and award-winning social enterprises championing sustainability. Rashvin plays a regular role in global programmes and speaking engagements. In conversation with SEWF, he speaks about the human actions and behaviours he believes we can adopt to shape society in a more sustainable and positive way.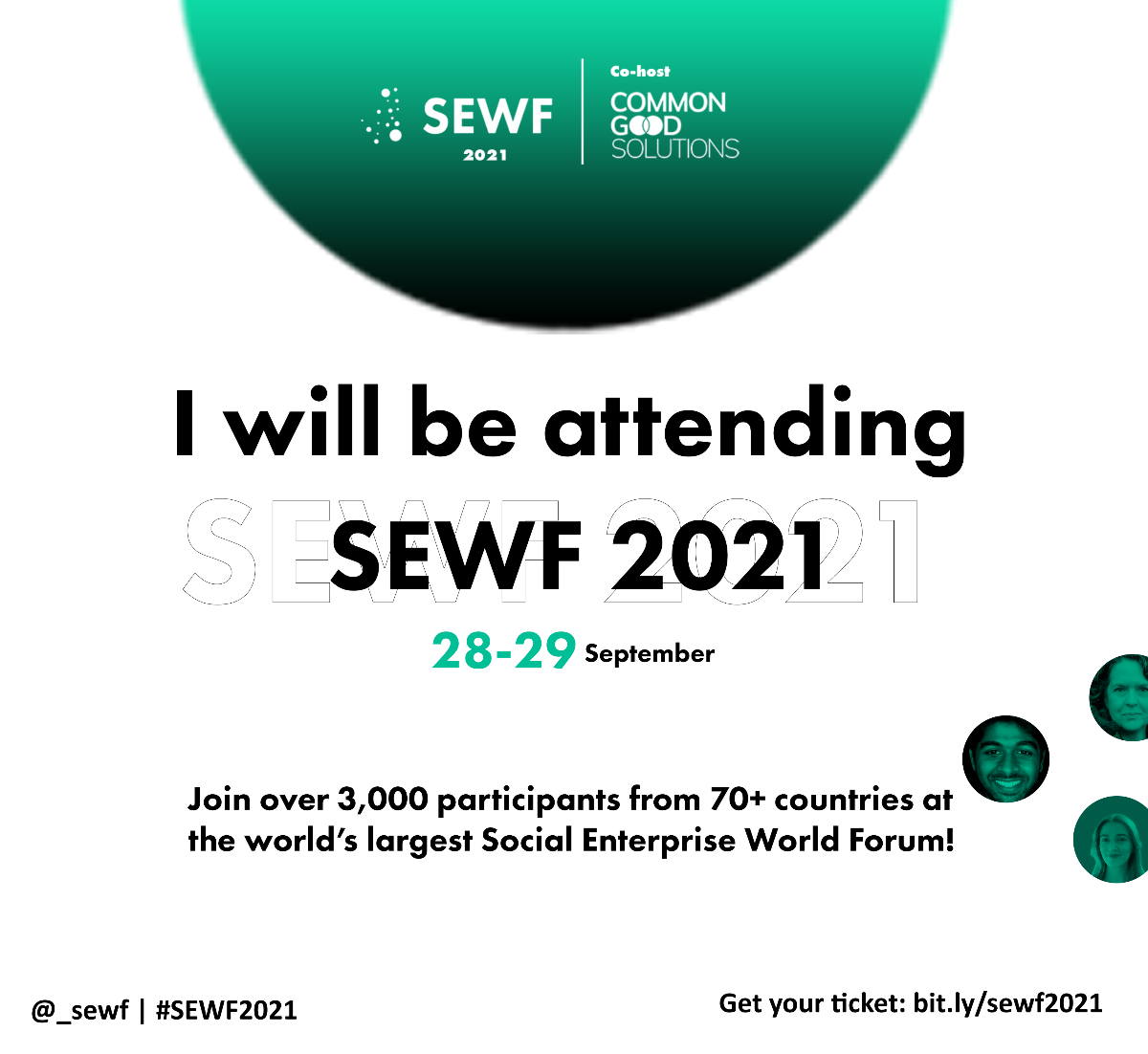 Attending SEWF 2021? Don't be silent about it! Over 3,000+ tickets have already been booked. Will you join participants from all over the world
to spread the word about #SEWF2021 to others within your network and community?
Join us by downloading and sharing the above image with your friends, network and other social entrepreneurs who would love to be a part of this global social enterprise conversation. Tag us on social media @_sewf and don't forget to use the #SEWF2021hashtag too!
Catch the new and exciting SEWF 2021 video and share with your network!
Get SEWF event tickets for less
– Early bird tickets still available:
Academic Forum early bird ticket ends 10 October
– Low income tickets: for low income, lower middle income and conflict-affected countries.
– Start-up social enterprise/student/youth event ticket.
– Group discount: 10% for groups of 10 or more.
– Standard ticket
– The Youth Forum ticket: free to all under 30.
Get details on event specific tickets: Youth Forum | SEWF 2021 | Rural Forum | Academic Forum
Do you work in social procurement?
Over the last decade, SEWF has worked with corporate partners, national and regional governments and social enterprise agencies to support the adoption of social procurement systems. Join intermediaries, corporates and governments including the Scottish Government, Korea Trade-Investment Promotion Agency Acumen, Buy Social Canada, Buy Social USA, Johnson & Johnson, SAP, Social Enterprise UK, Social Traders, Yunus Social Business and more on the Community of Practice today. →
Social Change Central: Social Enterprise Series: Presented by ACU Co-Lab and delivered by StartSomeGood, the Social Enterprise Series is a FREE eight-week in-depth learning program designed to educate future global changemakers about the practical components of establishing or growing a thriving social enterprise. Learn more.
---
Hina West, WWF Nature Pays Director: Equality, justice and investment in nature must be at the heart of the corporate climate response: A low-carbon economy needs to include social equality and justice, to ensure that both people and nature thrive. People dependant on natural resources for survival are among those who have the least impact on the climate, yet, are likely to suffer the greatest from the Climate Changes we face. Director of WWF Nature Pays, Hina West will be joining SEWF 2021. Read her latest piece on why climate justice is absolutely key in the corporate response to climate changes and join her session at SEWF 2021.
---
Shopify/SheEO: Applications have opened for the Shopify and SheEO Scholarship for Social Enterprises. Through this expanded partnership with SheEO, an annual scholarship valued at $3200 for 100 women entrepreneurs and other marginalized genders who run social enterprises has been created. With the scholarship, recipients will receive free access to the SheEO community and network; free access to the Shopify platform for one year and dedicated monthly workshops with a Shopify expert for all recipients.
---
Apply to the Halcyon Incubator: Halcyon Fellowships equip early-stage social entrepreneurs with the tools and relationships they need to achieve scalable, lasting impact. Halcyon's Fellowships are free with no fee or equity stake required. Applications are currently open for:
– Halcyon's Flagship Residential Fellowship (Cohort 16, Spring 2022),
– 2022 Opportunity Intensive Fellowship,
– 2022 Africa Intensive Fellowship.
Application deadline: Friday, October 8, 11:59 pm ET
In the SEWF Resource Library, you will find examples of social enterprise policies, strategies, and studies that capture national, regional, and local action on social enterprise development. This is the most extensive collection of social enterprise resources globally and the collection is always expanding. View the SEWF Resource Library here.
Thanks to all SEWF 2021 partners and sponsors. View all partners and sponsors here.
Follow us on social media