From SEWF
While we cannot meet in person we acknowledge that we gather virtually in Mi'kma'ki on the unceded and unsurrendered land of Mi'kmaq people. At Common Good Solutions, we make this acknowledgement because our aim as a social enterprise is to help deepen community connections and become a greater force for social good. Acknowledging that the foundation our community is built upon is rooted in inequity and injustice is the first step we must take to move toward a more equitable and just future.

–  David Upton, CEO, SEWF 2021 Co-host Common Good Solutions 
SEWF 2021 is co-hosted by Common Good Solutions in Mi'kma'ki (Nova Scotia), shining a spotlight on Canada. One of the key themes of SEWF 2021 is Indigenous-led community and social enterprise, a theme that will continue onto SEWF 2022 where we will be co-hosted by White Box Enterprises in Australia. We are thrilled to have these outstanding examples of Indigenous-led community and social enterprises sharing insights on the following topics and sessions:
– Youth Forum and SEWF 2021 opening with Stephen Augustine, Hereditary Chief of the Mi'kmaq Grand Council.

– Spotlight on social enterprises in the cultural economy with K'odi Nelson of Nawalakw (Canada) and Faumuina Felolini Maria Tafuna'i, Flying Geese (Aotearoa New Zealand).

SEWF 2021 Day 1 closing – The future of business with an Indigenous vision: Moderated by Jace Meyer from the Indigenous Innovation Institute (Canada) with speakers including Jirra Lulla Harvey from Kalinya (Australia) and Thomas Benjoe from FHQ Developments (Canada).
– Education for a sustainable future: Hear from Kara Bobroff, Director of the Native American Community Academy (USA) who will be speaking in this session.

– Addressing the social finance gap – alternative approaches with Chris Googoo from Ulnooweg and Carly Mohamed from First Australians Capital (Australia). Chris is a proud member of the We'koqma'q First Nation and has helped hundreds of Aboriginal entrepreneurs secure loans and access business services. Carly is a proud Gooreng Gooreng woman who grew up in Yorta Yorta Country in Victoria, Australia. She helps Aboriginal and Torres Strait Islander entrepreneurs start and grow businesses with finance support
– Opening fireside with SmartICE, an award-winning social enterprise that combines Inuit knowledge and technology to monitor sea-ice, preserve local cultures and provide employment.

– Addressing the social procurement supply and demand dilemma featuring Frae Cairns, Capability Manager of Amotai, which connects buyers to Māori and Pasifika businesses.

– SEWF 2021 Day 2 closing – Young and engaged – changing the way the world does business featuring young social entrepreneurs from Canada, Bangladesh and Australia including Rona Glynn-McDonald, CEO of Common Ground.
SEWF Tickets
Thanks to the generous support of SEWF 2021 sponsors we have a limited number of additional bursary places for next week's event. With an amazing 85 countries already represented this is the global event of the social enterprise community. Click here before September 24th for access to limited tickets.
Left to right: Neelam Chhiber, Industree / C2030 (India); Harish Hande, Selco Foundation (India); Brukatwit Tigabu, Social Enterprise Ethiopia / Whiz Kids Workshop (Ethiopia); Charlie Wigglesworth, SEWF / Social Enterprise UK (Moderator)
COVID-19: Last mile responders leading the way to recovery
Sit in on this panel of social entrepreneurs providing practical and creative responses to fighting the global COVID-19 crisis
Tuesday 28.09.21 / 13:40-14:20 GMT+1 / 09:40-10:20 ADT
Left to right: Christine Gent, Fashion Revolution CIC (UK); Anouk Bertner (Moderator), EcoEquitable (Canada); Jonas Lessa, Retalhar (Brazil)
Can the fashion industry ever be sustainable?
Meet the enterprises working to make the fashion, clothing and textile industries more environmentally sustainable.
Wednesday 29.09.21 / 23:30-23:40 GMT+1 / 19:30-19:40 ADT
15 reasons not to miss out on SEWF 2021!
Helen Harvey, SEWF's incredible Event Director has listed 15 reasons why you shouldn't miss out on SEWF 2021 and here they are:

1. Be part of the conversation at one of the world's largest social enterprise events, and connect with over 3,000 social enterprise leaders, practitioners and changemakers from 80+ countries.

2. This is NOT just another ZOOM meeting! SEWF 2021 is being held on Hopin – the world's leading multi-purpose event platform!

3. You spoke, we listened – your feedback is invaluable to us. SEWF 2021 is built on 14 years of experience in convening the global social enterprise community and we have implemented your ideas and feedback into SEWF 2021.
Europe – Euclid Network
Closing the gap between social enterprises and EU decision-makers. Ecosystem insights and opportunities from the ESEM 2021 survey launch
Moderator: Wieteke Dupain, Euclid Network (Netherlands)
Speakers: Rowan Barnett, Google.org; Michael Wunsch, SEND (Germany); Johanna Mair, Hertie School and Stanford University (Germany)
Tuesday 28.09.21 / 17:00 – 17:50 GMT +1 / 13:00 – 13:50 ADT
Social entrepreneurs for a greener planet
KOICA and Work Together Foundation lead a pre-recorded session with Korean social entrepreneurs on regional restoration and climate change.
Moderator: Jae-gu Kim, SEWF / Work Together Foundation (Korea)
Speakers: Youngjae Jo, Envelops (Korea); Mincheol Jeong, Tree Planet (Korea); Hyerin Park, ENOMAD CORP (Korea); Rachel Kim, Jeju Olle Foundation (Korea)
Tuesday 28.09.21 / 17:00 – 17:50 GMT +1 / 13:00 – 13:50 ADT
Social enterprise in MENA – old practice, new concept
Join us to explore MENA's social enterprise ecosystems. What makes them unique? What are some of the challenges and opportunities and what role do collaborations play?
Moderators: Elena Mertel, Euclid Network (Netherlands) and Christian Vietz, Euclid Network (Netherlands)
Speakers: Lama Amro, BuildPalestine (Palestine); Ghassan Halawa, Parachute16 (Jordan); Asma Mansour, TCSE (Tunisia); Ahmed Bastawy, ICEALEX (Egypt)
Tuesday 28.09.21 / 17:00 – 17:50 GMT +1 / 13:00 – 13:50 ADT
Empresas sociales como agentes promotores de una reactivación sostenible
Destacar y discutir el rol que pueden/deben cumplir las empresas sociales como agentes promotores de una reactivación sostenible
Moderator: Sebastián Gatica, CoLab UC (Chile)
Speakers: Juan Manuel Martínez, Foro Global Virtual de Economía Social (Mexico); Marcel Fukayama, Sistema B Internacional (Brazil); Florencia Estrade, League of Intrapreneurs (Brazil); Cecilia Foxworthy, Agora (USA)
Tuesday 28.09.21 / 18:00 – 18:50 GMT +1 / 14:00 – 14:50 ADT
How can we all better support young changemakers?
Speakers: Nick McGirl, The Possibilists (Germany); Jennifer Beason, SAP (USA); Jess Teutonica, We Are Family Foundation (USA); Jathusha Mahenthirarajan, (Canada)
Tuesday 28.09.21 / 19:00 – 19:50 GMT +1 / 15:00 – 15:50 ADT
Impact integrity: Measurement, mapping, forecasting with Romy Kochan, Gingras Global (USA)
Tuesday 28.09.21 / 20:40 – 21:20 GMT +1 / 16:40 – 17: 20 ADT

Value proposition and marketing development with Lisa Hawkes, TRANSFORM (UK)
Wednesday 29.09.21 / 12:50 – 13:30 GMT+1 / 08:50 – 09:30 ADT

How to get ready to sell to corporations with Emily Gannam, Acumen (USA) and Lucie Durand, Yunus Social Business (USA)
Wednesday 29.09.21 / 14:50 -15:30 GMT +1 / 10:50 – 11:30 ADT

Navigating mental wellness and burnout with Jermaine Henry (Canada)
Wednesday 29.09.21 / 22:50 – 23:30 GMT+1 /  18:50 – 19:30 ADT
Young speakers at SEWF 2021
Once again, we are super excited to have so many young speakers under 30 featuring in our #SEWF2021 programme and we are always in awe of their passion, dedication, innovation and ideas. Meet some of our under 30 speakers at SEWF 2021!
Katie Forsyth, Friendly Composting Inc. (Canada)
Arthur Lima, AfroSaude (Brazil)
Eller Everett, P4Innovation (Spain)
Aayushi KC, Khaalisisi (Nepal)
Ronald Mugaiga, Ecomak Recyclers (Uganda)
Marta Vânia Uetela, BioMec (Mozambique)
Riana Shah, Ethix.AI (USA)
Alexa Gantous, trashtalk*studio / LitterRally (Mexico)
Arhum Ishtiaq, ConnectHear (Pakistan)
Matthew Goldsworthy, Youth Arts New Zealand (YANZ) (New Zealand)
Manu Sekar, HashHackCode (India)
Wondering who's speaking or the sessions and masterclasses you can attend at the Youth Forum on 27 September?
Find Community Hubs to be part of
Are you involved with rural social enterprise? The SEWF Rural Forum on 27-28 October will showcase rural social enterprises, facilitate deep discussion on rural topics and build international connections between rural communities. Programme update coming on Friday. Stay tuned.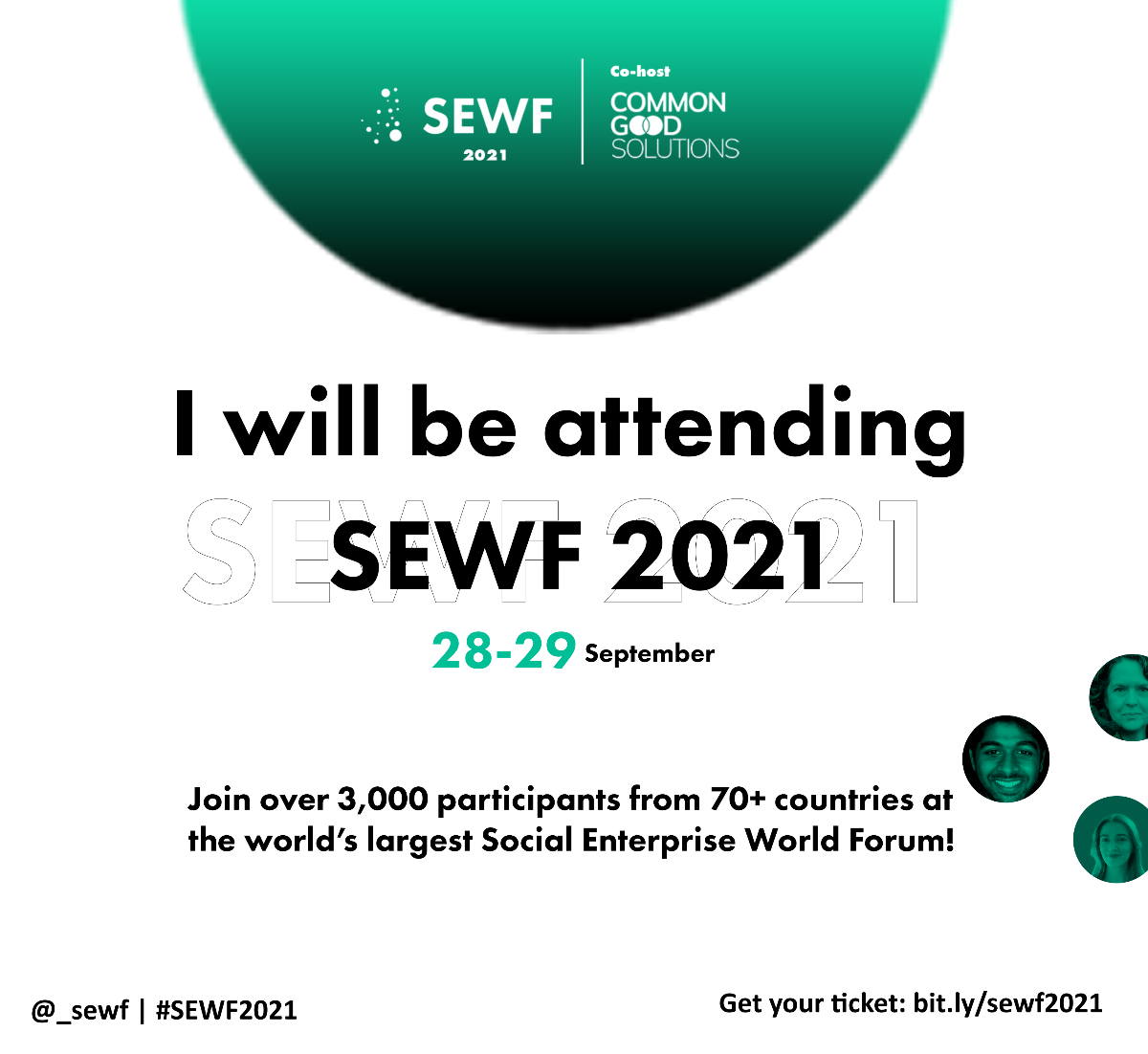 Attending SEWF 2021? Don't be silent about it! Over 3,000+ tickets have already been booked. Will you join participants from all over the world 🌏 to spread the word about #SEWF2021 to others within your network and community?

Join us by downloading and sharing the above image with your friends, network and other social entrepreneurs who would love to be a part of this global social enterprise conversation. Tag us on social media @_sewf and don't forget to use the #SEWF2021hashtag too!
Catch the new and exciting SEWF 2021 video and share with your network!
Get SEWF event tickets for less
– Early bird tickets still available:
Academic Forum early bird ticket ends 10 October
– Low income tickets: for low income, lower middle income and conflict-affected countries.
– Start-up social enterprise/student/youth event ticket.
– Group discount: 10% for groups of 10 or more.
– Standard ticket
– The Youth Forum ticket: free to all under 30.
Get details on event specific tickets: Youth Forum | SEWF 2021 | Rural Forum | Academic Forum
Do you work in social procurement in an intermediary, government body or corporate organisation? 
You can get access to the largest social procurement resource library including exclusive reports, process and systems documentation and a private webinar series curated for members of the international Social Procurement Community of Practice (CoP). Developed through a joint partnership between SEWF and Euclid Network with additional collaboration from SEWF's social procurement partners globally, the CoP will give you access to experts and colleagues around the world to seek advice and collaborate on projects that advance social procurement. Join the CoP today →
The Trico Foundation is pleased to announce the Social Entrepreneurship Research Award to celebrate social entrepreneurship excellence in Canada. In partnership with Social Enterprise World Forum and Common Good Solutions, any paper authored by undergraduate, graduate, postgraduate and/or early career researchers affiliated with a Canadian academic institution, which has been published since 2019, is eligible to be entered to win a prize of $10,000 to be announced at the SEWF Academic Forum (16-17 November). The submission process for this Award is separate from the Academic Forum abstract submission, which has now closed. Use this form to submit the link to a published paper that involves the systematic investigation into and study of materials and sources on social entrepreneurship in order to discover or improve knowledge. Submissions must be received by 8 October 2021 to be considered for the Award.
British Council: Effective Policymaking to Build the Impact Economy: The British Council is inviting you to join this new free online course 'Effective Policymaking to Build the Impact Economy'. On this eight-week course, you'll explore the role social enterprise and business plays in building a new future – one that is greener, safer, more inclusive, and connected. Learn how to develop policy that supports businesses to respond to pressing challenges and create an inclusive and fair economy. SEWF Strategic Policy Advisor, Maeve Curtin will also be featured in one of the course videos, speaking about social enterprise policy.

Course start date: 4 Oct 2021 – 26 Nov 2021
Apply here.
Pioneers Post: Here's an article from Pioneers Post on SEWF 2021 Speaker, Garth Johnson on the Advantage autism: the social business that champions neurodiversity at work.
Social Enterprise Scotland has launched a new website and campaign to promote social enterprises to private and public sector procurement buyers. The #BuySocialScotland services directory promotes over 100 organisations delivering social and environmental impact in communities across Scotland. It's free to be promoted, get in touch with the team at buysocial@socialenterprise.scot to be added to the site. Find out more by joining the online launch event on Tuesday September 21st at 2 pm or contacting Naomi Johnson at naomi.johnson@socialenterprise.scot.
SmartICE: We are so proud to announce that Carolann Harding, Executive Director of SmartICE, has been named a Finalist for the 2021 RBC Canadian Women Entrepreneur Awards for the Social Change Award: National Impact! The RBC Canadian Women Entrepreneur Awards are the pre-eminent national business awards recognizing the country's leading female entrepreneurs. Now in its 29th year, the program is an initiative of Women of Influence, an award-winning organization dedicated to advancing Canadian women. The Social Change Award is dedicated to a female entrepreneur that has made a profound and positive impact in society. Carolann Harding will also be speaking at SEWF 2021.
In the SEWF Resource Library, you will find examples of social enterprise policies, strategies, and studies that capture national, regional, and local action on social enterprise development. This is the most extensive collection of social enterprise resources globally and the collection is always expanding. View the SEWF Resource Library here.